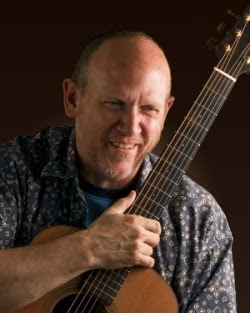 I still remember the first time I heard "Theme from A Summer Place". Odd song for a 12 year old boy to be drawn to…but I was mesmerized by it. That song was playing on a neighbors radio, probably an oldies station since it was now 1970. "Moon River" is another song I was easily drawn into. These two songs remain among my top favorites to this day.
My first guitar, a nylon stringed Alvarez, arrived on my 16th birthday. Most guitarists I've known started at a much younger age. Actually, I didn't know I was interested in playing the guitar until I received one.
There wasn't a musical history in my family, other than my mother's 2nd cousin being Roy Acuff (a.k.a. 'King of Country Music') – but that "shirt-tail" relative was a far distance away in miles and connection.
Although my mother would have loved for me to become a Country musician I navigated toward the music I was listening to…Hard Rock. I spent my first six to seven years as a guitarist being in Heavy Metal and Punk bands. I kind of chuckle about that now. 
From the time of my first guitar I have composed primarily instrumental songs. Though there are many lyrics based songs I have liked I seem to gravitate naturally to the instrumental style. A bit hard to explain, but it's like I hear more going on in a solo guitar piece than in a multi-instrument song with singing.
By the early '80s my Rock'n'Roll and long hair days were coming to an end. I found myself returning to the acoustic guitar, genuinely enjoying the sound and new compositions. I hadn't ventured into Fingerstyle yet and it would be several years before hearing the songs of Will Ackerman and Michael Hedges. Fortunately I had learned the skill of finger picking early on and stayed with it which was quite beneficial when the interest in alternate/open tunings came along.
In 1983 I was asked to join the Worship band at a church I had been attending. (I became a Christ follower at 17 years of age but it took a long while to get serious about it.) It was here that music took on a truer meaning for me, and the place I learned the healing effect music can have on a person. Since that time I have always wanted what I do musically to have this aspect about it.
As the '90s approached I had been a musician for 16 years but hadn't really accomplished what I thought I should have – that is to say I had not "made it". A few of the guys I played with in the past had gone on to get record deals. I made a decision to focus on a non-music career. Good thing is, as I got older I awoke to the fact that the term "made it" has nothing to do with the essence of being a musician.
Until 2004 my endeavors in music were always geared to being in a band. But I began composing many more solo guitar Fingerstyle songs during that year, of which initially I didn't know what I might do with them. A close friend continued to encourage me to expose these new compositions to a live audience. For the first time I performed as a solo artist…and I actually felt "at home" in this mode.
In 2006, at age 48, I released my first album, "Clearly", as a solo artist. I remember thinking at the time this was all I needed to record; I had "said" what I wanted with my music. But this first recording just opened the door for many more compositions to come my way, which in turn found their way onto subsequent albums. Honestly, with that first recording I wondered if any one actually cared to hear what I was saying musically. I am thankful there are people all over the world who enjoy what I compose and record.
And I hope my music will enable you to escape the noise and enjoy some quiet moments.